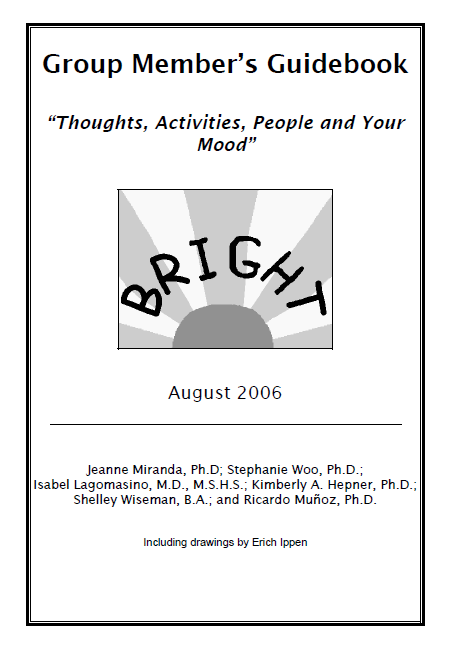 Note that these are all pdf files.
The first version of this treatment program was developed as a set of three manuals for a research study to see whether the program could be helpful to people who were suffering from depression. The study was directed by Peter M. Lewinsohn, Ricardo F. Muñoz, Mary Ann Youngren, and Antonette Zeiss at the University of Oregon (Zeiss, Lewinsohn, & Muñoz, 1979).
The authors of the original manuals combined them and published them as a self-help book titled "Control Your Depression" (Prentice Hall, 1978; revision published in 1986). The book was the source of several versions of this approach developed as treatment and prevention manuals at San Francisco General Hospital, a teaching hospital of the University of California, San Francisco (Muñoz & Mendelson, 2005). BRIGHT and BRIGHT-2 were adapted from 2000 version of the group cognitive-behavioral treatment manual for depression developed by Professor Ricardo F. Muñoz and colleagues (Muñoz, et al., 2000).
The Relaxation Course manuals are available in English and Spanish.
---